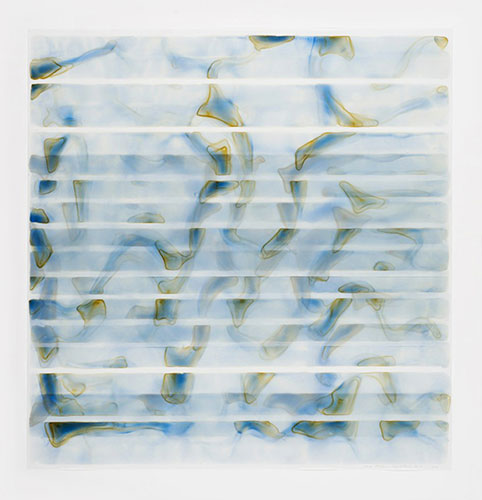 Dara Mark Liquid Stack-7, 2012, Watercolor on Layered Polypropylene 42" x 41"
DARA MARK
"New Mexico artist Dara Mark's work possesses an ordered, calm beauty that sets it apart. Her patterned, abstract paintings take advantage of the flowing effects produced by her materials…and recall the natural world, which, like her paintings, is a grand mixture of the ordered and the random." American Artist Watercolor Magazine
"There is a sense of quiet that exists within the (work), a sense that nonetheless insists on its own presence…These silent poems repeat rhythmically, odes to a dawning awareness." Kathryn Davis
Mark studied at Yale and the University of California at Santa Barbara. She has received artist grants from the Arts Councils of Missouri and California and the Santa Barbara County Arts Commission and has shown in museums including The Albuquerque Museum, Los Angeles Municipal Gallery and the Palm Springs Art Museum. Her work is represented by Friesen Gallery in Sun Valley, ID, and SMINK, Dallas, TX.