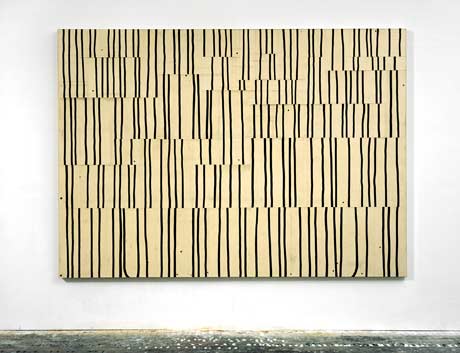 Robert Kelly Thicket LXV

Robert Kelly, a native Santa Fean, has been residing in New York City for the past 20 years. He has been represented by Linda Durham Contemporary Art in Santa Fe since 1987. With over 30 one person shows to date throughout America and Europe, his work continues to explore a metaphysic of mark making and painting on a variety of richly constructed surfaces. Combining influences of the Bauhaus from Van Doesburg to Mondrian, with those of Schwitters and Klee, Kelly weds hints of the historical with the contemporary. His play of edges, angles and cuts amidst otherwise random marks, creates a tension and an intuitive logic to the placement of line and form.
Recent exhibitions include.. Lesley Feeley Fine Art, New York, NY, John Berggruen Gallery, San Francisco, CA, Linda Durham Contemporary Art, Santa Fe NM, Bentley Gallery, Scottsdale, AZ, and Doug Udell Gallery, Vancouver, BC, Canada.